Indigo Hand Dyed Fabrics, Care Tips and Handling
Natural indigo hand dyed fabrics will not shrink like machine dyed fabric because it has already gone through water during the dyeing process, so the meterage won't change while washing.
No Chemical is used in dyeing process.
Apart from variation of color in displays (picture taking, computer screen, phone screen etc), Hand dyed fabric has slight color variation from bolt to bolt and from meter to meter. The piece you buy will resemble what is shown here but will be unique and wonderful.
Washing
Generally, natural plant dye is not as strong as synthetic dye to bond into the fiber of fabrics. Even so, natural indigo is one of the stronger dye among plant dyes.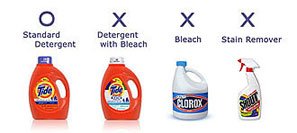 The experience gained in the dyeing process shows that a stronger reduction in the indigo vat will give a better result in color fastness and a brighter color shade.

As a result, the dyeing artisans have to keep their eyes on the bacteria's activity and state in the indigo vat to get the fine color and to prevent discoloration of the fabric
After the dye process is done, Fabrics are rinsed gently several times with an Eco friendly textile detergent to remove the indigo which did not bond properly into fibers and to prevent discoloration as little as possible.
However, we recommend that our products should be washed by hands with lukewarm water and small amount of detergent to last.
If you want to use a washing machine that's fine, but please set it at the most gentle and shortest running time mode.
After washing, the fabric should dry outside in a shady place. Tumble dryers are not recommended to because of unnecessary damage and rubbing of the fabric. Please do not use any kind of bleach or stain remover at anytime.
Colors may bleed in during the first few washes: You may wish to soak fabric in water with salt or vinegar for half an hour before the first wash. Always test first !
Indigo-dyed fabrics may lighten over time, just like denim.
After handling natural indigo hand dyed fabric, your hands may pick up some excessive dyes. You may want to wash the fabric before use. But in any case, the dye is completely harmless.
Yellowish stains
You may notice some yellowish stains on a new piece of fabric. Don't worry; the stains will wash out easily, and if you see it, it's more proof of natural indigo dye too.
You may notice some yellowish stains at the border of Shibori pattern sometimes. That are impurities contained in indigo solution. Usually this can be seen right after the fabric was dyed or when we store it in a closet for a long time. Don't worry; the stains will wash out easily and should you see it, it's more proof of natural indigo dye too.
The Hand dyeing process requires many checks and adjustments. A hook is used to lift the bolt of fabric so no bacteria from hands being introduced into the dye vat to maintain the quality of dye. However this does make small holes on the selvage of the fabric every now and then. This has no impact of the quality of the fabric as the selvage is cut off before use anyway. And again, this is another proof of hand dyed fabric.
Hand dyeing with natural plant dye is an ancient and complicated process. It involves plants being boiled and fermented giving the plant dyed fabric its own unique subtle fragrance.
If not being used immediately, suggest is to store the indigo dyed fabric in roll form in a dark place.
Hope you enjoy it as much as I do
Regards, Yan Sun