Little Stabs
A little Sashiko history
Sashiko is a Japanese folk-art that originated in Japan's rural north sometime during the Edo period (1615–1868). Having evolved over centuries from an economic necessity, we now appreciate the Little-Stabs as a decorative and attractive art.
The word Sashiko literally means 'Little-Stabs'. It refers to the stitching in repeating or interlocking pattern of one or more layers of cloth with a simple running stitch.
In comparison to Japan's beautiful silk fabrics, Sashiko is considered a "folk art textile". This little element of reinforcing fabrics with thread began several hundreds of years ago and has been the foundation of Japanese peasants, martial artists, and even firefighters.
While many Sashiko patterns have originated from Chinese designs, Japanese embroiderers have developed just as many.
Traditionally white cotton thread was used because it created an attractive contrast to the blue indigo fabric. Despite its unique appearance it was not unusual to use different colors for decorative items.
The Idea behind
The primarily use for Sashiko embroidery was to reinforce the hand-crafted clothing of ordinary people who essentially couldn't afford to discard a single piece of fabric, and consequently reused their fabrics to reinforce old clothing.
The Worn-out garments were sorted out and separated to make new pieces of clothing by utilizing basic running stitches. These new or mended garments greatly improved their quality with these strong embroidery stitches.
The creative part.
Sashiko stitching uses mostly geometric patterns that are in fact simple interpretations of the things we discover in nature. Common motives are plants like bamboo and grasses, diamond and polygonal shapes, animals, birds and even snowflakes.
Designs
Most common patterns used in Sashiko stitching
Hemp Leaf, Wild Grass and Seven Treasures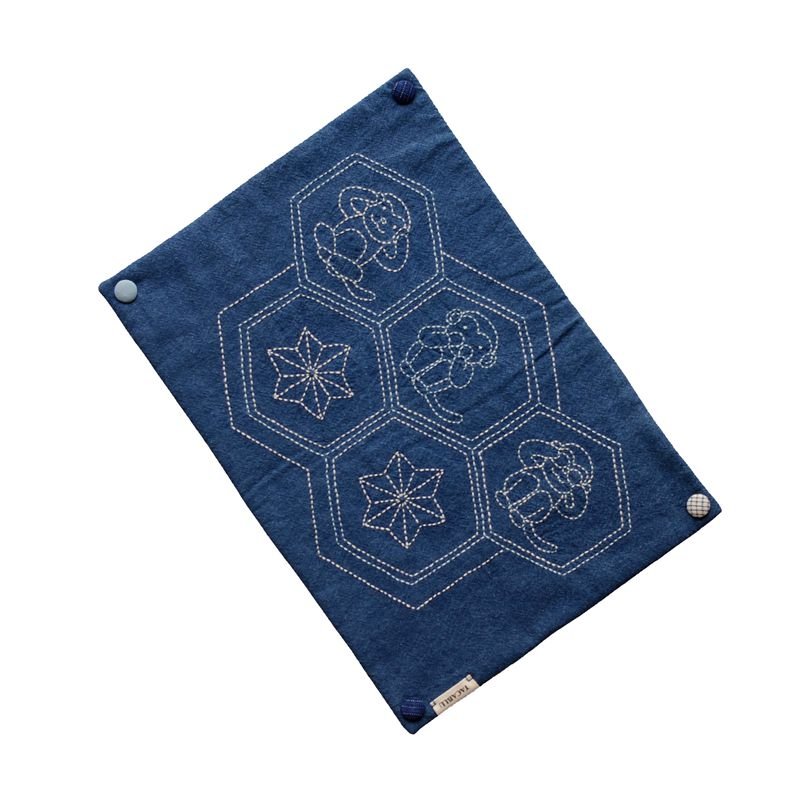 Sashiko stitching has changed over time and is no longer limited to the traditional indigo colored fabric. Due to a variety of color combinations being used these days, Sashiko Embroidery has become an attractive surface decoration for fabrics and garments.
If you're new to Sashiko embroidery, we stock a large range of Sashiko samplers as an introduction to Sashiko stitching. We can also print any Sashiko Pattern in any size onto fabric you like. Just send us a message and we will reply shortly to chat about your requirements and how we can help. You certainly won't be disappointed.
---